The participants of the first PiCoDe workshop worked intensively for two weeks in October at the Faculty of Materials Technology and Textile Design of the Lodz University of Technology.
During the exhibition event sharing the results of the project and the new teaching method, which took place at the end of the workshop in the Pop'n'art gallery, two prototypes of products made in the technique of jacquard and embroidery were presented, combining interactive media to promote Łódź – the city of industry textile, design and film.
The PiCoDe team consisting of twelve participants developed two product concepts of an interactive map of Łódź murals combined with a smart phone app, and a cloak called "Pokino", a jacquard poncho with elements of digital embroidery, referring to scenes from cult Polish films.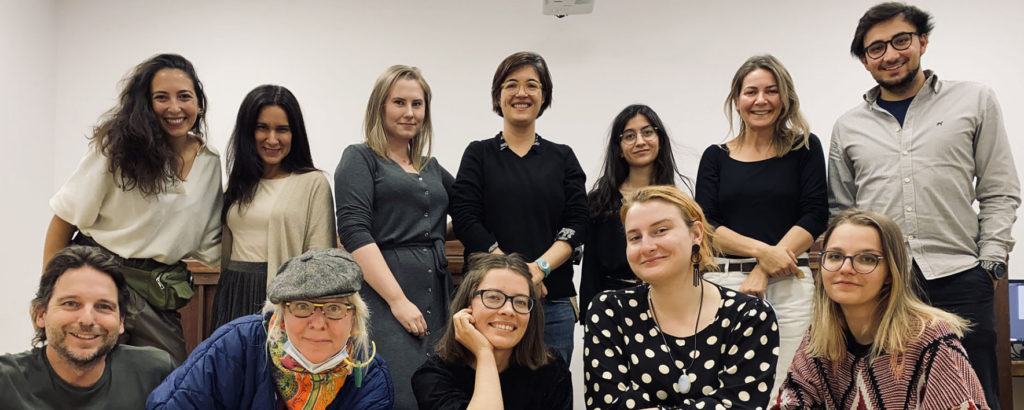 THE ART OF HUNTING, a guide to Łódź murals, was in fact a map of various sightseeing paths wrapped in a jacquard roll, which, after returning from vacation, can be used as a commemorative picture to hang on the wall. The essence of the product, however, is an application, a voice guide showing all murals divided into several time paths.
For the purposes of presenting the idea, a product model, its visualization, identification and sound samples were created.
POKINO was a jacquard poncho whose patterns refer to the avant-garde tradition of the city of Łódź. The main idea of ​​the product was to promote Polish cinematography with scenes from the most popular Polish films embroidered on the jacquard fabric along with a QR code that took you to the trailer and information about the film. Pokino can play a practical role during many Lodz film festivals, should it get cold during the evening outdoor screenings.